Ok so this is the first guide ive ever done so I hope you all enjoy it, leave your comments in the bottom and tell me what you think of it and if you think im worthy to make more guides

Ok so Ill be covering a 1-99 fishing guide, I hope you all enjoy it, it took me a little while to make it and I will only be covering FASTEST FISHING METHOD and nothing to do with cooking skill etc.
Ok so to start fishing you first have to get to skilling island.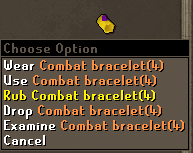 Right click a combat bracelet and click rub(highlighted) Then this will show up

Click on skilling island and heres what you need to know.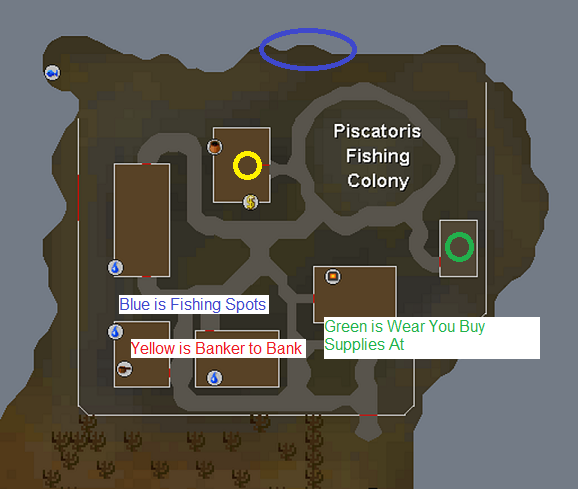 now go to the shop and buy your items, heres what you need for my methods, Small net, lobster pot, harpoon, fly fishing rod, feathers(31).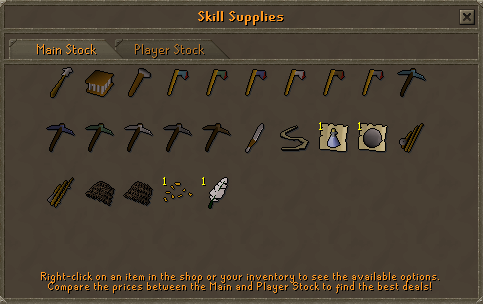 ok now since your ready to get started I'm going to go over trip rates, catches xp and everything else important to know. Please note I'm only covering certain fishes not all of them.
First off heres all the spots.

Going from left to right you have Net 1: Shrimp/anchovies, Net 2: Monkfish, Cage: lobsters, harpoon: swordfish/tuna/shark, net 3: doesn't matter, Harpoon: Shark, Bait: doesnt matter, Lure: salmon/trout, fish: manta rays.
Ok now heres levels to catch fish, xp per fish, xp per pack(27), and time to catch full pack(based on 99 fishing but I dont think it changes much to be honest and time rates are based on a 10 trips and rounded to closest 5).

Shrimp: Catch with small net: level 1: 200 xp per catch: 5,400 xp per pack: 1 minute 40 seconds to get one pack (anchovies with them)

Anchovies: Catch with small net: level i forget but its from 3-5: 950 xp per catch: 25,650 xp per pack: 1 minute 40 seconds per pack(shrimp included)


Trout: Catch with fly fish rod and feathers: level 20: 1000 xp per catch: 26,000 per pack: 1 minute 40 seconds per pack(salmon included)


Salmon: Catch with fly fish rod and feathers: level 30?: 1,600 xp per catch: 41,600 xp per pack: 1 minute 40 seconds per pack(trout included)

Lobster: Catch with lobster cage: level 40: 2,600 xp per catch: 70,200 xp per pack: 1 minute 40 seconds per trip.
Monkfish: Catch with small net: level 62: 3,300 xp per catch: 99,900 xp per pack: 2 minutes 15 seconds per trip.


Shark: Catch with harpoon: Level 76: 3,000 xp per catch: 81,000 xp per pack: 4 minutes 30 seconds per trip.


Manta Ray: Catch with harpoon: level 95: 3,700 xp per catch: 99,900 per pack: 3 minutes per trip.
Also if there is any spots that have 2 different fish like, trout and salmon and shrimp and anchovies in 10 packs straight the average is about 14 on 14 in ex. 14 trout and 14 salmon on average.
Also take note that to every time amount per load add 20 seconds and that 20 seconds is ussually the max amount of time it takes to bank.
Alright as you can see fish you dont want to catch is...SHARK! they are extremely slow and do not give enough experience compared to the other fishes.
Alright to go on with the first method wich is the fastest all around is the lobster method, it wont give you much cash but its the fastest way of getting 99 fishing, and this is how i got to my 99 fishing.
(anything that has two or more fish from the same place trout and salmon, shrimp and anchovies all xp is based on if you would get a full inventory of the lowest amount of xp fish so these scales are based on mininums)
From level 1 to level 20 you want to do shrimp/anchovies. Its going to take one pack and you will of got to at least level 21 with at least 5,400 xp in about 1 minute and 40 seconds.
Now what you want to do is go put away your small fishing net and get out fly fishing rod with feathers to get to level 40 it will take at least 31 feathers, now you could stop at exactly 40 and have a total of at least 37,400 xp or you could go on and get a full pack, personally i stop at right at 40.
Now go bank your fish and get your lobster cage, from 40-99 your set, and just so everyone knows lobsters are the fastest xp rate there is, not by much but there the fastest. Ok so this is what you need to know.
from 40-99 it takes 4,999 lobsters to get to 99, thats 186 full packs of lobsters and it will take at least a total of 6 hours and 12 minutes.
A semi tip is when your fishing for for lobsters and your inventory gets full click on the yellow dot NPC at bank, then bank the lobsters and click here on your mini map and your charecter will walk back right infront of the lobster fishing hole.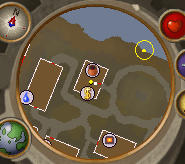 When you have got your 99 Fishing go to Canifis and buy the fishing skill cape, if you dont know what the emote looks like here it is.
If there are any other fishing tecniques you would like to know about post your comments and tell me. Thank you so much for the taking the time and reading it

Last edited by Serenity on Fri Jan 28, 2011 12:15 am; edited 1 time in total